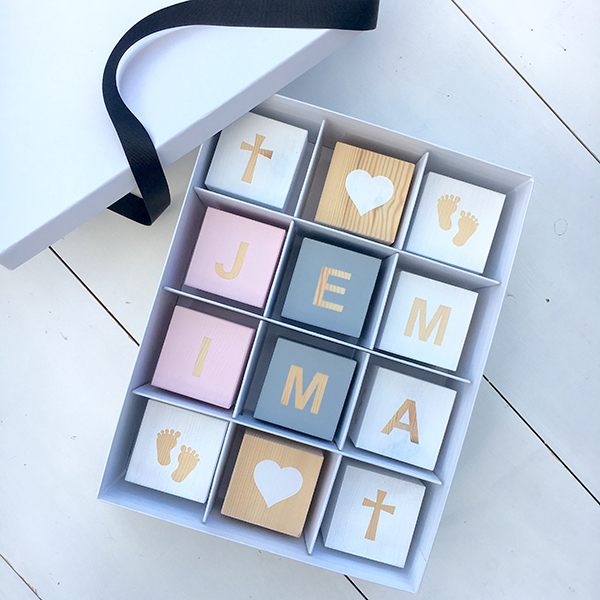 Play Cubes - Luxury Christening Gift Box
£ 72.00
A truly bespoke and special christening gift, these play cubes are a beautiful, tactile way for a little one to learn to spell their name, stack bricks and play, as well as looking great as decor or on display.

* * *
Made from natural pine wood and sanded for a beautiful soft finish, each cube is painted and sealed with water-based, certified toy safe products (which meet the stringent requirements of the European Union EN-71-3 toy safety standards).
* * *
Each gift box houses 12 Play Cubes, so once you have selected your name, remaining cubes can be painted with iconic christening shapes (baby feet and cross) and further shapes if required.
* * *
Please use the form at the checkout to specify the name and choices for the remaining cubes.
* * *
Packaged in a white, comparted box and delicately tied with black grosgrain ribbon.
* * *
Size: Each cube measures approximately 6.5cm x 6.5cm x 6.5cm
* * *
PLEASE NOTE The Play Cubes are made to order. Please allow10 day s for your order to be made and posted. Due to the weight, they may be sent as two seperate parcels.