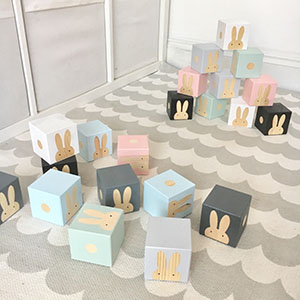 Play Cubes - Painted Cubes with Wooden Rabbits
£ 6.00
The bestselling wooden Rabbit Play Cubes have now been reversed.
* * *
Made from natural pine wood and sanded for a beautiful soft finish, each Play Cube is hand painted with water-based, certified toy safe paints**. The rabbit and opposing spots have been left wooden, so the beauty of the grain can be seen and each Cube is finished with two black eyes.
* * *
Size: Each cube measures approximately 6.5cm x 6.5cm x 6.5cm
* * *
Price is per Play Cube. Please amend the quantity at the checkout.
* * *
PLEASE NOTE The Play Cubes are made to order. Please allow 10 days for your order to be made and posted.
**(which meet the stringent requirements of the European Union EN-71-3 toy safety standards).