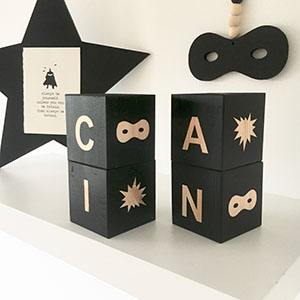 Play Cubes - Personalised Superhero
£ 6.00
How many letters in name required?
The super popular Superhero Play Cubes just got personalised! With the name of your choice, each cube features a superhero mask and POW sign, with the letter on the remaining two opposing sides. The letters and shapes have been left wooden, so the beauty of the grain can be seen through the black.

* * *
Made from natural pine wood and sanded for a beautiful soft finish, each Play Cube is hand painted with water-based, certified toy safe paints**.
* * *
Available in other colours upon request, these Play Cubes are the perfect accessory for any superhero themed nursery or bedroom.
* * *
Please use the form at the checkout to specify the name.
* * *
Size: Each cube measures approximately 6.5cm x 6.5cm x 6.5cm
* * *
PLEASE NOTE the Play Cubes are made to order. Please allow 10 days for your order to be made and posted.
**(which meet the stringent requirements of the European Union EN-71-3 toy safety standards).